Every October, the Occupational Safety & Health Administration (OSHA) publishes a list of that year's Top 10 OSHA Safety Violations to alert employers and employees to the most cited standards. The idea is to encourage everyone to take any necessary steps to find and fix hazards in and around their workplace. There are about a half-dozen standards that almost always make that list and Powered Industrial Trucks (PIT) ( 29 CFR 1910.178) is common repeat. PIT violations ranked number nine (9) out of ten (10) on OSHA Top 10 Violations List for 2021 with 1,420 violations.
What is a PIT? OSHA states powered industrial trucks, commonly called forklifts, or lift trucks, are used in many industries, primarily to move materials. They can also be used to raise, lower, or remove large objects or several smaller objects on pallets or in boxes, crates, or other containers. Powered industrial trucks can either be ridden by the operator or controlled by a walking operator. Even powered pallet jacks require training under OSHAs PIT standard, and that training needs to be equipment specific. Over-the-road haulage trucks and earth-moving equipment that has been modified to accept forks are not considered powered industrial trucks.
OSHA created a list with illustrations of the seven different classes of PITs. The seven classes include:
Electric motor rider trucks (your classic electric forklift)
Electric motor narrow aisle trucks (warehouse material movers)
Electric motor hand trucks or hand rider trucks
Internal combustion engine trucks (solid/cushion tires)
Internal combustion engine trucks (pneumatic tires)
Electric and internal combustion engine tractors
Rough terrain forklift trucks
Illustrations and additional information for each PIT class can be found on the OSHA website.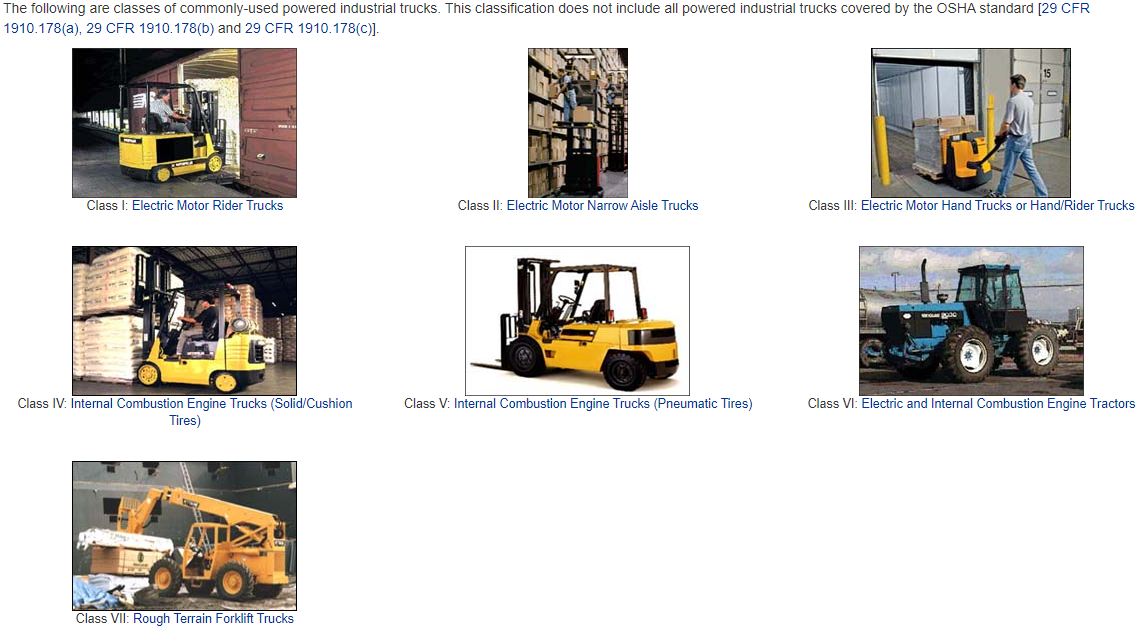 The Industrial Safety and Hygiene News states, each year in the United States, nearly 100 workers are killed and another 20,000 are seriously injured in forklift-related incidents. Forklift overturns represent about 25 percent of all forklift-related deaths and represent the leading cause of fatalities involving forklifts. Injuries also occur when forklift trucks are inadvertently driven off loading docks or fall between docks and an unsecured trailer. Workers can also be injured when struck by a lift truck, or if they fall while on elevated pallets and tines. Forklift accidents also cause costly property damage, such as damage to overhead sprinklers, racking, pipes, walls, and machinery. In most cases, both employee injuries and property damage can be attributed to lack of safe operating procedures, lack of safety-rule enforcement, and insufficient or inadequate training.
Over the past few years, violations involving the use of Powered Industrial Trucks (PITs) have been increasing. To address this trend, OSHA currently has implemented powered industrial trucks regional emphasis programs in 18 states. This means that if you're selected for an OSHA inspection, it's likely that your compliance officer will review your PIT program while they are onsite, no matter the initial purpose of the inspection.
According to a top PIT distributor, the following are common PIT-related OSHA violations:
Attachments - You cannot add any non-factory attachments to your truck unless you obtain written approval from its manufacturer. When using attachments, all data plates, tags and decals must display their capacity, operation, and maintenance data.
Legible Markings - It's extremely important that a truck's controls, nameplates, and markings be visible and legible. If something has worn or fallen off, you need to find a way to re-label that item so it can easily be read and understood.
Training - Before an operator uses a truck, they must obtain their certification. PIT training must include a blend of instruction methods. Instructional training (or information delivered in a classroom, video, online course, etc.) must be paired with hands-on demonstrations, and an evaluation of how the employee operates the equipment. Refresher training must be conducted every 3 years.
Inspections - Inspections must be conducted daily. However, in circumstances in which a PIT is used around the clock, inspections must be conducted after each shift. If a PIT is found to contain defects, has issues with overheating or unsafe conditions, or is need of repair, it must be taken out of service until these issues can be corrected.
Seat belts - While it's not explicitly stated in OSHA's PIT standard, seat belts must be worn by truck operators. In a letter of interpretation, OSHA explains that they cite employers for lack of seat belt use under the General Duty Clause.
What are the hazards associated with operating powered industrial trucks?
According to OSHA , each PIT type presents different operating hazards. For example, a sit-down, counterbalanced high-lift rider truck is more likely than a motorized hand truck to be involved in a falling load accident because the sit-down rider truck can lift a load much higher than a hand truck. Workplace type and conditions are also factors in hazards commonly associated with powered industrial trucks. For example, retail establishments often face greater challenges than other worksites in maintaining pedestrian safety. Many workers can also be injured when:
lift trucks are inadvertently driven off loading docks;
lifts fall between docks and an unsecured trailer;
they are struck by a lift truck; or
they fall while on elevated pallets and tines.
Powered industrial truck operators need to understand all the potential hazards to perform their jobs in a safe and appropriate manner and prevent accidents and injuries to themselves or other workers.
An effective tool to educate your employees on the hazards of PITs is with a Job Safety Analysis (JSA) or a Job Hazard Analysis (JHA) . OSHA defines it as a system that examines job tasks to pinpoint hazards before they occur. The system observes the connections between worker, task, tools, and environment. After identifying hazards, the user takes steps to reduce or eliminate them. JHAs/JSAs not only help prevent injuries and incidents, they also can aid in auditing, training, and incident investigation.
Completing a JSA for PITs is an opportunity to ensure that your company is meeting the standards laid out by OSHA which could prevent violations down the road. When conducting the JSA and identifying hazards we recommend using JSABuilder.
To make the JSA process as effective as possible, consider using JSABuilder.
Note: images, links, brands discussed or displayed in this article are not endorsements or recommendations. They are for illustration of various products and types of products. JSABuilder does not recommend products, does not endorse, or express any opinion as to the applicability to any given use case or job hazard. Again, consult your safety professional to obtain authoritative opinions on applicability, selection and fitting of all the various types of PPE, then work smart and safe.