The roll of women in the workforce has been evolving over the years to include not only office work, but employment in the field as well. Within the realm a construction, for example, a recent study concluded that 10% of construction workers are made up of women, which is over 1,100,000 people. The industry is growing, and women need to be set up for success in whatever field of work they choose to be involved in. Personal Protective Equipment (PPE) that is to be worn when working in potentially dangerous situations is a requirement by the Occupational Safety and Health Organization (OSHA) to prevent injury or death and is something that manufacturers have failed to modify for women. When considering hazard safety, establishing Job Safety Analyses (JSAs) to include Personal Protective Equipment is a necessary part of the plan and it's important to have PPE available that will fit men and PPE for women.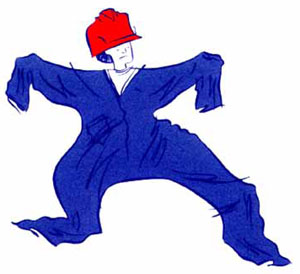 Image Credit
It's Not A "One Size Fits All"
The purpose of PPE is for protection and when a worker is made to wear PPE that does not fit properly, it can actually create even more of a hazard for that employee. As a worker putting themselves in a hazardous situation, it is of the upmost importance that all women, men as well, test out their given PPE to ensure if fits properly and allows for unrestricted movement. Traditionally, women have smaller and narrower features than men so sharing unisex, or PPE designed with the male figure in mind can be problematic. Employers must do their due diligence as well when purchasing PPE for their employees. Manufacturers also have a responsibility for developing proper fitting PPE for women and the Electronic Library of Construction Occupational Safety & Health has compiled a list of companies to shop from here.
There are 6 main forms of PPE
Head Protection: When faced with ill-fitting headwear, such as loose helmets due to cranial size being too large or straps not being able to fasten tightly, there is a risk of lack of protection from falling or swinging objects.
Hard hats
Helmets
Hand Protection: Being equipped with hand protection that does not fit properly can present possibilities of fingers being stuck in machinery, contamination from chemicals, or even burns and cuts.

Gloves

Eye and Face Protection: Without proper fitting eye and face protection, debris can easily bypass the gaps in glasses causing serious damage and the face is vulnerable to cuts and burns.

Safety goggles
Safety glasses
Face shields
Visors
Welding shields

Hearing Protection: Adequate hearing protection is a requirement for work that involves high-sound levels to prevent hearing loss or damage. When plugs or headphones are not the proper size, sound waves can still permeate the equipment.

Earplugs
Acoustic foam
Noise meter

Foot Protection: Accurate sized footwear is necessary to protect against slips/falls, temperature, falling objects, etc.

Toe guards
Safety shoes

Body Protection: From protecting yourself from the elements to making yourself highly visible to others, there are varying forms of body protection PPE that is needed to fit properly to be efficient in providing protection.

Leggings
Jackets
Visibility clothing
The statistics don't lie regarding the risk women face due to lack of proper PPE. The New York Committee for Occupational Safety and Health (NYCOSH) disclosed that between 2003 and 2010, an average of 15-1,101 women died annually in construction sites and on average 32 per 10,000 women workers were injured on site (compared to 154 per 10,000 men). In Job Safety Analyses (JSAs), employers must consider the specific needs of women and their Personal Protective Equipment. It's not appropriate to assume a "one size fits all" or men's sizes will be efficient in protecting women workers from hazardous situations. Using programs such as JSABuilder has made generating JSAs incredibly effortless while meeting all the requirements to be Occupational Safety and Health Organization compliant. By going to jsabuilder.com , you can go through the simple step-by-step process of putting together a JSA form explaining all the appropriate PPE needed to perform tasks safely.
Follow us on LinkedIn and Twitter @JSABuilder, where we post and Tweet about Health and Safety, provide Safety tips, and updates on current Health and Safety topics.
Images, links, brands discussed or displayed in this article are not endorsements or recommendations. They are for illustration of various products and types of products. JSABuilder does not recommend or express any opinion as to the applicability to any given use case or job hazards.