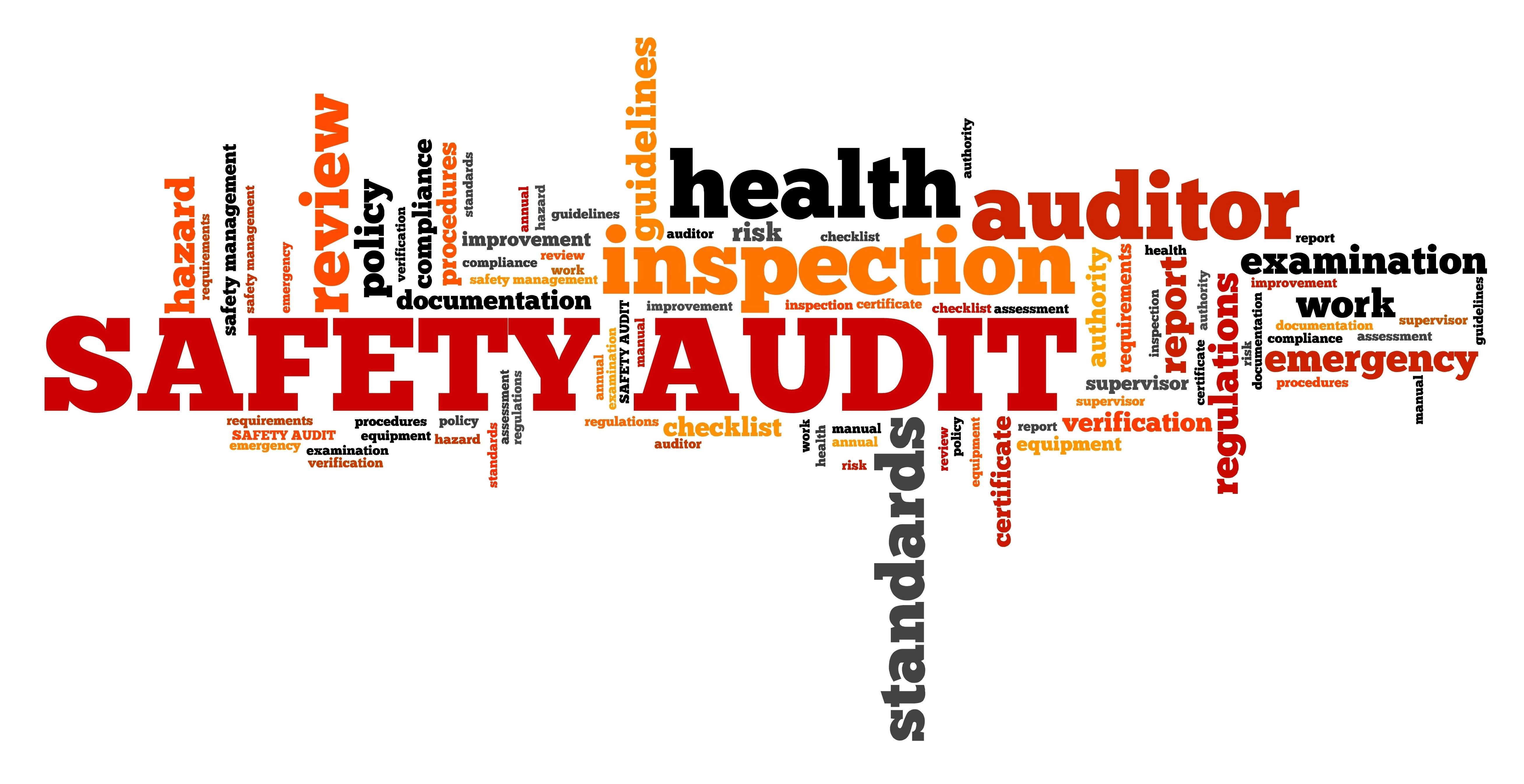 Image Credit
Most of us believe we are trying to maintain safe working environments at our project sites to protect our workers plus others in the vicinity. For most that is the perception anyway, but have you actually slowed down and checked, or is it time to perform a safety inspection or audit? Now is the time to challenge yourself, act and conduct a safety inspection to identify any gaps, if present, and then eliminate them before an accident occurs revealing the presence of a gap in an unfortunate way.
Some may prefer to not perform any safety audits due to the perceived costs, time, and effort. That is false economy, if a preventable accident occurs. Also, they should be aware that through the Occupational Safety and Health Act of 1970 (the Act), the Occupational Safety and Health Administration (OSHA) is authorized to conduct workplace inspections to determine whether employers are complying with standards issued by the Agency for safe and healthful working conditions . OSHA site inspections are serious events and they can occur any time. If an inspection is triggered due to an incident or complaint at the worksite, that makes an audit even more serious for employers. The best strategy is usually self-auditing in advance to identify potential issues, then mitigating those identified issues independently, therefore avoiding accidents or potential negative findings during an OSHA audit.
So how do you perform a self-audit? To be useful, your audit must be systematic and objective to assess regulatory compliance in the workplace. They normally involve a survey of the worksite to:
Identify what regulations apply to the project or work site and are consistent with the scope of activities.
Determine whether established environmental and workplace safety requirements , and corporate policies and procedures regarding compliance are being followed and are documented.
Assess management systems currently in use to ensure and document compliance . An audit may also review and evaluate the methods used to achieve compliance.
Evaluate project risk assessment tools and associated worker training programs .
In determining what regulations may apply to a project or site, the OSHA website presents over 35 written plans, programs, procedures, or manual requirements in OSHA 29 CFR 1910 for industry over-all. In addition, there are over 20 more requirements for construction that are presented in 29 CFR 1926. That's a lot of potential written plans, however it is unlikely that all of them apply to your project or facility. You will need to review the requirements individually to understand which ones apply.
Once it is determined what requirements apply to the site(s) in question, a risk assessment can be performed to systematically acquire data necessary to complete the audit documents. One of the best risk assessment tools , is JSA Builder which is conveniently available on the internet at www.jsabuilder.com. This is a user-friendly inexpensive tool for preparing Job Safety Analyse s ( JSA ) or Hazard Safety Analyses ( HSA ). If no safety plan is available, then all of the required plans and potential risks that have been identified can be used to develop the appropriate written safety plans and documents which are records of how an establishment is protecting (or plans to protect) employees overall for safety or health hazards. The words "plan" and "program" can be and have been used interchangeably depending on the scale of the application. Both simply document what a project or facility is doing to keep its employees safe and healthful.
Now in the paperless era, OSHA permits written plans to be held in either paper or electronic format, as long as it meets all other requirements of the relevant standard. Where the OSHA standard requires that the written plan be made available to employees/workers, you must ensure that they know how to acquire or access the appropriate documents and that there are no barriers to that employee access, If you maintain plans electronically, consider how they will be made available to employees or to an OSHA inspector if they were to visit a worksite. Printing a copy upon request is usually acceptable for OSHA inspectors (but the printer needs to be available). At remote sites, some availability of printed documents may be necessary.
While OSHA does not require the translation of your related safety plans, it is advisable if you have employees who don't read English. For some activities, it may be critical for employees to be able to read the details, such as for lockout/tagout procedures in order to properly perform their functions. Your programs should be in a language all employees can understand and follow. It is also the employer's responsibility to determine the frequency for conducting audits/inspections or updating documents based on its evaluation of potential risks. Those evaluations need to consider any changes in conditions such as varying worksites or equipment modifications in industrial facilities for example.
The result of your safety inspections/audits should be an understanding of your firm's compliance status with OSHA requirements. That understanding should provide a basis for communication of details of safety programs and procedures including direction on how to best comply with company programs to maintain a safe work place. One commonly used process for those communications is through daily tailgate (or toolbox, or office) talks which are targeted short informational meetings held with employees to discuss work-site related safety topics. The term " tailgate meetings originated from the practice of meeting around the tailgate of a pickup truck at construction sites, however these meetings can be staged just about anywhere. Almost any venue is appropriate for discussion of safety.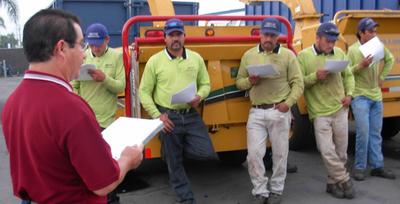 Image Credit
The goal for holding tailgate discussions is to inform and engage employees regarding selected hazards potentially associated with a task(s), and the safest way to perform that task. Usually tailgate discussions also serve as a reminder to employees of what they already should know while reinforcing the supervisor's credibility and conscientiousness about his or her responsibilities for safety. We should never become complacent in performing even the simplest tasks, safety is always a 24-hour per day effort, and workers cannot turn-on safe working behaviors and practices at your direction. They must believe in a safe work philosophy which begins first-thing each morning. So, build a strong safety culture and save.
To assist OSHA compliance and to plan details of the next project, risk assess your planned work tasks, it's FREE to try out at www.JSAbuilder.com. Find out what thousands of current users already know…. this outstanding JHA/JSA software tool will help your team work safely and go home at the end of each work day without harm. If you have a distributed workforce, they can use JSABuilder.com to create a library of JSAs which then are available online to be modified and/or shared across your team. Follow JSABuilder on Twitter @JSABuilder, where we tweet about Health and Safety, post Safety tips, and provide updates on current Health and Safety topics. Remember, for a free risk assessment software tryout go to www.JSAbuilder.com.
Also, take advantage of one of our other top safety tools at www.LOTOBuilder.com today. It is currently available for a FREE 30-day trial which will allow you to manage your lock out tag out program from start to finish. Easily enter your workers, equipment and procedures to build an entire LOTO program . Save time and money using LOTOBuilder and help your workers to work safe. Another great tool from www. HASP online.com.
Note : images, links, brands discussed or displayed in this article are not endorsements or recommendations. They are for illustration of various products and types of products. JSABuilder does not recommend products, does not endorse, or express any opinion as to the applicability to any given use case or job hazard. Again, consult your safety professional to obtain opinions on applicability, selection and fitting of all the various types of PPE, then work smart and safe.