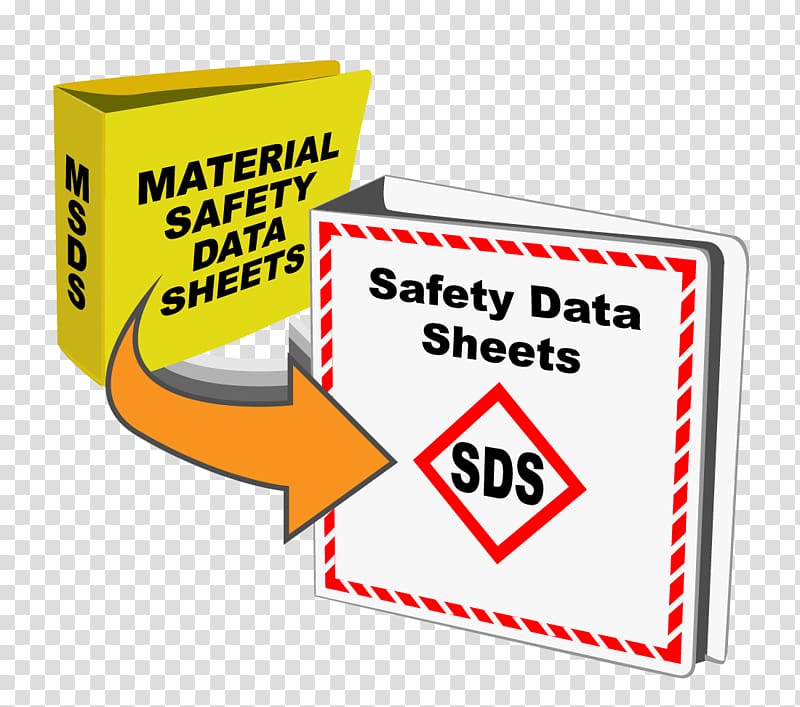 Safety Data Sheets (SDS) are required under The Hazard Communication Standard (HCS) (29 CFR 1910.1200(g)) of the U.S. Department of Labor's Occupational Safety and Health Administration (OSHA). OSHA requires that the chemical manufacturer, distributor, or importer provide Safety Data Sheets for each hazardous chemical they produce, distribute or import. In 2012 OSHA retired the older forms which were called Material Safety Data Sheets or MSDS and replaced the MSDS with the Safety Data Sheets which now are consistent with international standards and now are in alignment with the United Nation's (UN) Globally Harmonized System of Classification and Labelling of Chemicals (GHS). The SDS's are broken into a standardized 16-section format. Safety Data Sheets are an invaluable tool that should be utilized when preparing a Job Safety Analysis or Job Hazard Analysis.
OSHA now requires the following standardized sections in all Safety Data Sheets:
Section 1: Identification includes product identifier; manufacturer or distributor name, address, phone number; emergency phone number; recommended use; restrictions on use.
Section 2: Hazard(s) identification includes all hazards regarding the chemical; required label elements.
Section 3: Composition/information on ingredients includes information on chemical ingredients; trade secret claims.
Section 4: First-aid measures includes important symptoms/effects, acute, delayed; required treatment.
Section 5: Fire-fighting measures lists suitable extinguishing techniques, equipment; chemical hazards from fire.
Section 6: Accidental release measures lists emergency procedures; protective equipment; proper methods of containment and cleanup.
Section 7: Handling and storage lists precautions for safe handling and storage, including incompatibilities.
Section 8: Exposure controls/personal protection lists OSHA's Permissible Exposure Limits (PELs); ACGIH Threshold Limit Values (TLVs); and any other exposure limit used or recommended by the chemical manufacturer, importer, or employer preparing the SDS where available as well as appropriate engineering controls; personal protective equipment (PPE).
Section 9: Physical and chemical properties lists the chemical's characteristics.
Section 10: Stability and reactivity lists chemical stability and possibility of hazardous reactions.
Section 11: Toxicological information includes routes of exposure; related symptoms, acute and chronic effects; numerical measures of toxicity.
Section 12: Ecological information
Section 13: Disposal considerations
Section 14: Transport information
Section 15: Regulatory information
Section 16: Other information, includes the date of preparation or last revision.
Additional details regarding information that should be included in these sections can be found in OSHABrief Hazard Communication Standard: Safety Data Sheets.
As part of the hazard and risk assessment conducted during the preparation of a Job Safety Analysis or Job Hazard Analysis, it is considered a best practice to inventory all chemicals that will be required to complete the task or job. This chemical inventory can be used for a wide variety of safety related pre-planning scenarios. For example the information can be used to make sure each chemical has an up to date Safety Data Sheet, that workers are trained in the proper use of the chemicals, that workers have the proper personal protective equipment (PPE) and know how to use the PPE when working with any given chemical, workers are trained and understand basic first aid related to the chemicals, in the event of an emergency.
In addition to chemicals that are specifically required to complete the required work, work crews may bring with them additional chemicals that may not be job specific but of a more general nature. Another best practice is to require that these chemicals, that may be left over from prior jobs or be of general purpose and included on a work vehicle, also have Safety Data Sheets. Often a binder of Safety Data Sheets is maintained for each work crew and / or work vehicle. Having a vehicle specific notebook binder of Safety Data Sheets can be very helpful, or essential, in the event one of these chemicals is used on the job or in the event of an accident or spill.
JSABuilder is a state-of-the-art online job safety analysis app to assist in preparing your Job Hazard Analysis or Job Safety Analysis. Set up a free trial account today and follow us on Twitter @JSABuilder, where we Tweet about Health and Safety, provide Safety tips, and updates on current Health and Safety topics.