The Occupational Safety and Health (OSHA) Safe + Sound Week is a nationwide event held each August that recognizes the successes of workplace health and safety programs and offers information and ideas on how to keep America's workers safe. Safe + Sound Week is the high point of OSHA's yearlong safety and health campaign and begins August 12 this year. Implementing a safety and health program can improve businesses' safety and health performance, save money, and improve culture.
OSHA's Safe + Sound campaign promotes the need for safety programs at small- and mid-sized businesses, which are more likely to have limited resources dedicated to safety. Effective safety and health programs can help organizations identify and manage workplace risk before they cause injury or illness. Safety and health management systems are critical to ensure that company's achieve significant results and lower risk exposure.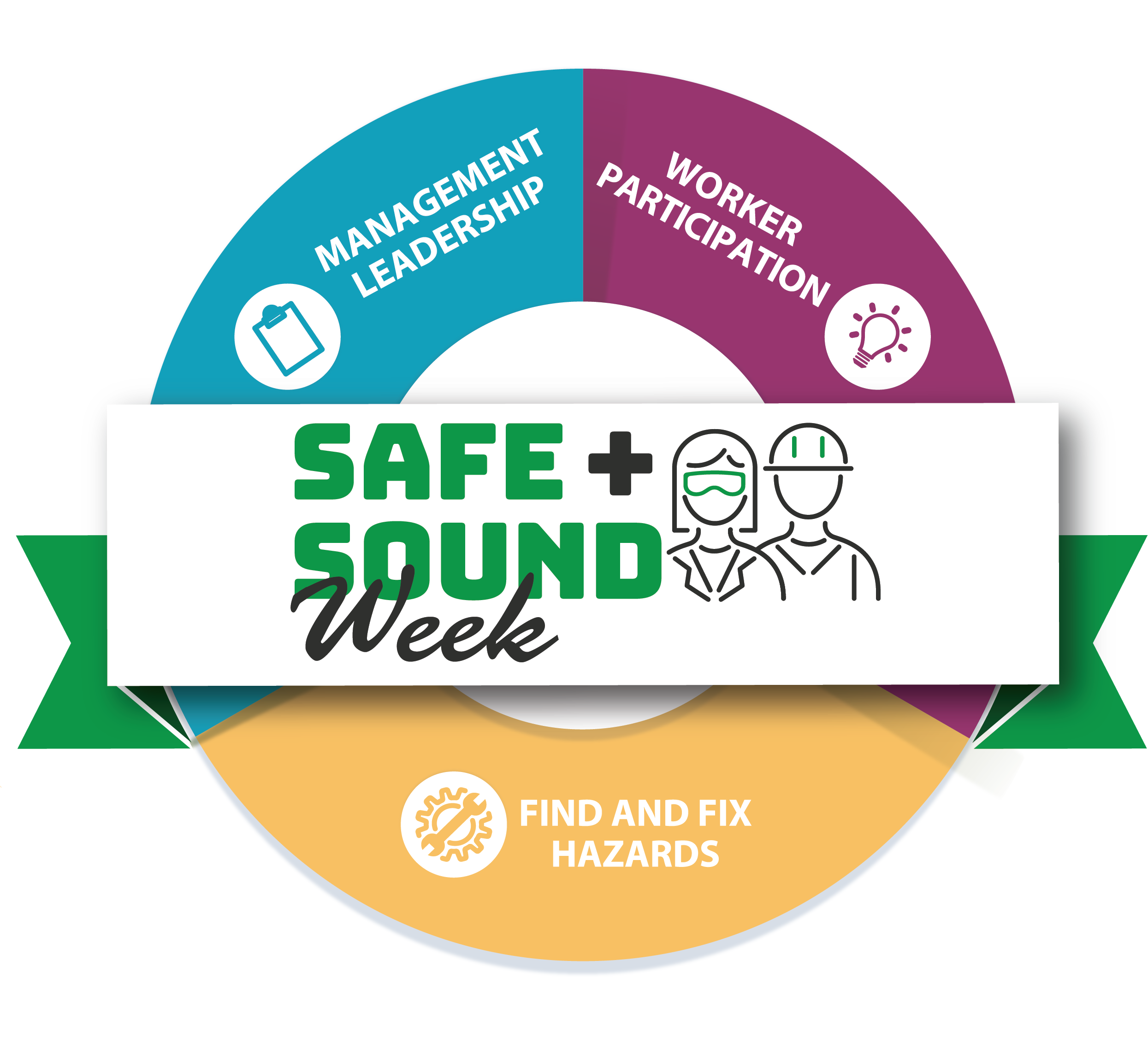 Organizations of any size or in any industry are encouraged to participate in Safe + Sound Week! Participating in Safe + Sound Week can help get your program started, energize an existing one, or provide a chance to recognize your safety successes. This is a great opportunity for companies to show their commitment to safety to workers, customers, the public and business partners.
Here are several suggestions to get you thinking about what would be most appropriate for your company:
Deliver a safety and health message from the management leadership to the staff
Management leadership can establish a visible presence to promote safety & health
Empower workers with safety & health information
Have employees provide feedback on what safety meeting topics or toolbox talks should be added to your safety program
Recognize workers or teams for contributions to workplace safety
Evaluate safety & health processes and systems to find and fix hazards
According to the U.S. Bureau of Labor Statistics, the rate of worker deaths and reported injuries in the United States has decreased by more than 60 percent in the past four decades since the Occupational Safety and Health (OSH) Act was passed. However, every year, more than 5,000 workers are killed on the job (a rate of 14 per day), and more than 3.6 million suffer a serious job-related injury or illness.
Serious job-related injuries or illnesses don't just hurt workers and their families but can hurt business in a variety of ways. Implementing a safety and health program, however, can improve small- and medium-sized businesses' safety and health performance, save money, and improve competitiveness.
OSHA states Safety and health programs help businesses:
Prevent workplace injuries and illnesses
Improve compliance with laws and regulations
Reduce costs, including significant reductions in workers' compensation premiums
Engage workers
Enhance social responsibility goals
Increase productivity and enhance overall business operations
The National Safety Council (NSC) encourages organizations of any size or industry to participate and showcase their commitment to safety. If your organization does not yet have a safety meeting program in place, Safe + Sound Week would be a great time to let your employees understand the organization's commitment to safety by starting a regular safety meeting or toolbox talk schedule. All organizations looking for an opportunity to recognize their commitment to safety are welcome to participate. Last year, more than 3,400 businesses helped to raise awareness about workers' health and safety!
Safe + Sound week is a great opportunity to jump start your company's safety successes, let JSABuilder, LOTOBuilder and HASPOnline help!
JSABuilder is the easiest, most effective way to create, document and manage your Job Safety Analysis (JSA) , also known as Job Hazard Analysis (JHA) and Activity Hazard Analysis (AHA) . JSABuilder further allows you to share your job safety knowledge across your organization.
Our LOTOBuilder program is specifically designed to be intuitive and requires minimal training so that non-technical team members can access, populate, and successfully generate Lockout/Tagout Our easy-to-use online system makes Lockout/ Tagout auditing and record-keeping a no-sweat process with PDF document generation and a dashboard view that lets the user easily access and edit LOTO procedures, lists of affected and authorized employees, equipment inspection schedules, as well as training requirements and schedules.
HASP Online is a revolutionary service that gives you all the tools you need to create, review, revise, manage, and store Hazardous Waste Operations and Emergency Response (HAZWOPER) site-specific health and safety plans in a single on-line location! HASP Online makes the health and safety plan process more compliant, efficient, cost-effective, and simple.
Follow us on LinkedIn and Twitter @JSABuilder, today, where our database-driven Lockout Tagout tool is currently available for a FREE 30-day trial, which will allow you to manage your lockout tagout program from start to finish. Easily enter your workers, equipment and procedures to build an entire LOTO program. Save time and money using LOTOBuilder and help your worker to work safe.
Images, links, brands discussed or displayed in this article are not endorsements or recommendations. They are for illustration of various products and types of products. JSABuilder does not recommend or express any opinion as to the applicability to any given use case or job hazards. Again, consult your safety professional to obtain authoritative opinions on applicability, selection and fitting of all the various types of PPE, then work smart and safe.