How do you operate a safe, efficient, and profitable business? You start with good project management , which monitors and operates the day-to-day activities that are intended to lead to successful project completions. An aspect of management that often gets ignored is project oversight , which is the safeguard of project management to confirm the plans and actions by managers through review of planning and operational activities. This is insurance; however, some may consider oversight a luxury, but if oversight promotes project efficiency and safety at the workplace reducing the number of work injuries and errors, or forces better adherence to schedules and budgets, which it often does, then oversight is really a necessity.

Project management is the organization of design, operations, and resources consisting of staff and finances towards the completion of projects in a timely manner on budget. For the sake of this discussion, project management will be presented as an activity conducted by a "contractor;" who could actually be an internal company project team, not an external entity; on behalf of a "client," who may actually be company management . Risk assessment and mitigation of potential hazard safety issues is a key fundamental element of design and operations that always has an effect on staff and budgets. For that reason, it is important to use key tools such as a Job Safety Analysis/Job Hazard Analysis (JSA/JHA) to understand project features and activities such that potential hazards can be identified and mitigated in advance of starting the projects. Consider using a slick industry standard tool such as JSA Builder (www.JSAbuilder.com) starting with planning, to perform risk analyses on planned facilities and operations from their very inception to promote optimized projects.
Project oversight, is a safeguard against projects not being conducted safely or completed on-budget, on-time, and within the established parameters for completion. Briefly, this is the watchdog (over contractor/team activities) that helps make sure projects get completed according to plan, and following the schedule, budget, and steps needed for them to be completed in a safe manner. Project oversight typically occurs starting after projects begin and is the checker of the processes and progress of subject projects. Application of project oversight is to not only intended to keep things in line and projects moving forward as smoothly as possible, but also serve as troubleshooter and adjuster of certain processes that could be improved along the way. As projects proceed, conditions often vary from what was originally envisioned, and those changes will likely impact the scope, so it is always good to have another set of eyes reviewing projects to confirm that no new unmitigated issues result from the modifications. Apart from these duties, the project oversight team should confirm that everything that must be done to complete the projects is indeed done, and is within what project management anticipated and planned initially. As conditions no doubt will change along the way, safety is certainly an important aspect of every project that will often benefit from such oversight and modification in response to the changed conditions.
Example project oversight elements that could potentially be undertaken might include the following:
Project Manager Support
The oversight team should oversee the global "big picture" and on-going project operations, generally interfacing directly with contractor's/team's senior site managers, and/or client. Where appropriate, track project budgets, review invoices from the contractor before client reimbursement, review and verify contract types, and track the various components of the project schedule during the duration of the project. Project management support for the client could include the following anticipated activities:
Confirming adherence to contract requirements by the contactor(s)
Overseeing field activities by contractors to confirm steps towards a successful completion of the project
Providing necessary staffing needed for engineering oversight and QA support
Tracking of the project budget (including potential revisions) and progress of the project schedule
Tracking of activities that may be reimbursable to client in some way
Reviewing Management of Change documentation ; very important for keeping the entire team operating in sync
Health and Safety Elements
As part of the planned activities, the project oversight team should support the client by providing oversight of workplace health and safety activities associated with the project work. These support activities include, but are not limited to, the following:
Safety observations
Updates to JSA forms, lock out tag out (LOTO) plans, and Health and Safety Plans
Potential daily Management of Changes, quality issues, etc.)
Communications about scope changes that could affect health and safety
Permits issued (number, status, and issues)
Industrial Hygiene (IH) data
Complaints by local residences (i.e., dust, noise, etc.)
Other health and safety issues identified by the client
Quality Assurance/Quality Control
Through systematic observations , the project oversight team should assist the client in confirming that project activities are conducted in accordance with approved design drawings, specifications, contract documents referenced in the agreed upon scope of work for the project(s). An example list of potential supportive scoping documents might be as follows:
Pre-Design Component Investigation Work Plan
Field Sampling Plan
Quality Assurance Project Plan
Project Performance Standards
Project Monitoring Plan
Construction Quality Assurance/Quality Control Plan
O&M Plan
Institutional Controls Implementation and Assurance Plan
JSA and LOTO forms
Financial Elements
The oversight team should assist the client by providing oversight of financial elements of the project which might include evaluating contractor cost controls and contract types, and contractual requirements. This oversight can be accomplished through tracking the contractor's adherence to established budgets and forecasts, and random sampling of invoices to verify that rates and documented expenses match contract requirements.
Technical Support
Through periodic systematic observations, the project oversight team should provide the client with technical/engineering support as necessary to identify potential project deficiencies and minimize/eliminate their impacts to the overall success of the project. Anticipated technical support activities might include, but are not limited to the following:
Review and recommend acceptance of contractor/subcontractor selection documentation
Modification of the design in response to unexpected and/or changing field conditions, QA requirements, and/or procedures
Verification of surveys or measurements to confirm design requirements have been met
As needed, provide the contractor with technical information to assist in clarifying discrepancies or inefficiencies in project activities
As needed, provide input on potential revisions in design to assist in promoting the project delivery consistent with design documents and drawings, and technical specifications
Review of JSAs and Management of Change (MOC) documentation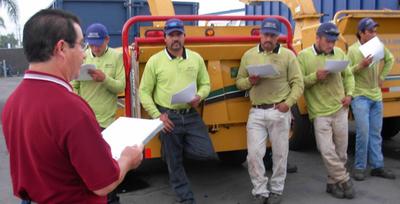 Image Credit
Project Communications and Reporting
As appropriate, the project oversight team should routinely report to the client regarding the status of relevant day-to-day issues that may arise during project activities. These issues may be routinely communicated to the client via phone call and/or e-mail. Various topics of discussion may include project issues, health and safety issues, budgets, schedule, progress, status of KPIs, and strategy.
To enhance project oversight, prior to beginning projects, the Job Safety Analysis provides a great tool to support conversations involving all competent as well as inexperienced workers to communicate or review potential task risks and the mitigating responses, to reduce those risks. These conversations also help reduce complacency by focusing the work team on the current conditions at task locations which may be different than those perceived when organizing the job, or maybe they change on a daily basis. These communications help maximize the value of project oversight services. The JSA/JHA in supporting the identification of changed conditions can help the work team to develop and agree on mitigations at the worksite, which can be immediately documented with a MOC annotation right on the JSA/JHA. That facilitates getting everybody to work on their tasks safely, in an efficient manner. Performing these MOC steps during reviews help to keep all team members engaged in thinking about the work tasks and help eliminate opportunities for complacency to ruin someone's day. JSA/JHA forms provide management teams so much value so inexpensively, it's difficult to understand why any team would not always rely on these forms for support.
Go to www.JSAbuilder.com and test this JHA software out for free, and help your team work safely and go home at the end of each work day without harm. Also follow us on Twitter @JSABuilder, where we tweet about Health and Safety, post Safety tips, and provide updates on current Health and Safety topics. We also highly recommend that you try one of our other top safety tools at www.LOTOBuilder.com today, where our database-driven Lockout Tagout tool is currently available for a FREE 30-day trial, which will allow you to manage your lock out tag out program from start to finish. Easily enter your workers, equipment and procedures to build an entire LOTO program. Save time and money using LOTOBuilder and help your worker to work safe.
Note: images, links, brands discussed or displayed in this article are not endorsements or recommendations. They are for illustration of various products and types of products. JSABuilder does not recommend products, does not endorse, or express any opinion as to the applicability to any given use case or job hazard. Again, consult your safety professional to obtain authoritative opinions on applicability, selection and fitting of all the various types of PPE, then work smart and safe.